Questrade Review

Questrade Inc. is an extreamly competitive and rapidly growing online discount brokerage. Founded in 1999, it as named one of Canada's 50 best managed companies in 2011 and is a member of both the Investment Industry Regulatory Organization of Canada (IIROC) and the Canadian Investors Protection Fund (CIPF).
Questrade services a large variety of investment accounts including self-directed registered accounts like RRSP and TFSAs. Consistently rated as a top discount broker, Questrade offers different options for adding exposure to gold to your investment portfolio (mining stocks, index funds, ETFs, etc…). However, Questrade is the only Canadian brokerage that acts as a custodian of physical gold and silver of which you can always take delivery. They even service these investments in registered accounts. Questrade acts as a bullion dealer so you can either trade physical gold and silver directly with them or through one of their affiliate dealers.
Questrade RRSP Accounts
Questrade's self directed Registered Saving Plan (RSP) accounts, which include RRSPs, allow you to build a diverse portfolio of stocks, options, ETFs, mutual funds, bonds and uniquely, precious metals. You have a variety of options for exposing your retirement savings to gold-related investments. They service many types of investments and are dedicated to a positive customer experience and a low-cost fee structure. The video below provides some information on their RRSP services.
There are no annual fees or set-up fees at Questrade. As with any brokerage, there are commissions but Questrade is very competitive. Stocks are bought and sold with a $0.01/share commission, a minimum charge of $4.95 and maximum charge of $9.95, which is the best rate in Canada for equity trades. ETFs are free to buy and sold for the same rate as stocks. Mutual fund trades cost $9.95.
Setting up an account with Questrade is simple and can be done online with as little as $1000. You will need your social security number and your bank and employment information. There are no fees to open or transfer your account and they will even cover the other bank's transfer fees up to $150 when you move at least $25,000 from another brokerage. Questrade makes it easy to regularly  fund your account with pre-authorized cash contributions, automatic deposits and dividend reinvestment plans.
Click here for a $50 rebate on commissions during your first month with Questrade. (limited time offer)
Gold and Silver Bullion in Your RRSP
Questrade introduced the option of holding physical bullion in registered accounts in 2007 and even today no other financial institution does it with the same level of convenience and affordability. You can use them directly as a bullion dealer or use one of their affiliate dealers. Buying and selling gold and silver directly with Questrade costs USD $19.95 per trade and must be done over the phone between 8:30 am and 3:00 pm. Account holders must call the trade desk directly and purchase bullion in U.S. dollars. There is no set premium over spot price; they will give you a quote when you call. They offer a basic selection of gold and silver maple leaf coins and bars from the Royal Canadian Mint. Questrade trades directly and exclusively with Kitco Metals. Their selection of bullion is shown below and the prices on this chart can be updated on Questrade's website.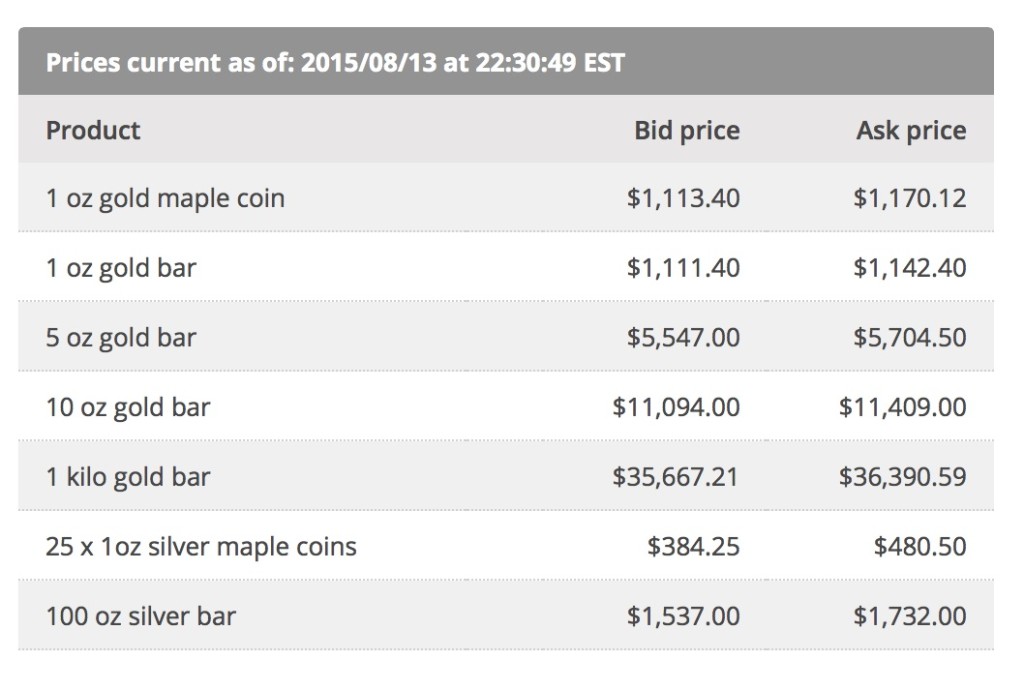 Questrade allows investors to hold both U.S. and Canadian cash in the same account, a feature that distinguished them from most online discount brokers. This is very beneficial to those looking to buy bullion since gold and silver are traded in U.S. funds. It also allows investors to buy U.S. equities and and other financial instruments without the hassle and costs of currency conversion. Eliminating the need to regularly convert funds reduces risk related to fluctuations in the exchange rate.
The storage fees for gold and silver held in RSP accounts depend on whether you prefer pooled (your precious metals are stored together with other clients' metals) or separate storage (your metals are segregated and stored under your name).  Pooled storage at the Royal Canadian Mint costs 0.25% of the market value of the bullion. Segregated storage at International Depository Service Canada is 1.50% of market value.  There are insurance fees of USD $4 per $1,000 of gold and USD $7.50 per $1,000 of silver. These are annual fees, charged monthly and deducted from your Questrade account.
You always have the option to take delivery of bullion purchased through Questrade. A withdrawal/shipping fees of USD $30 for each 500 oz or $100,000 of gold (whichever is higher) applies to pooled storage. For example, withdrawing 400 oz of gold valued at $150,000 would cost USD $60. This is in addition to the government taxes that you will need to pay to withdraw from your RRSP.
Link Affiliate Dealers to Your Questrade Account
In addition to trading bullion directly with Questrade, there is also the option of setting up an account with one of Questrade's affiliate dealers who will report your holdings to Questrade so that they are included in your investment portfolio. The affiliate dealers use cash from your Questrade account to purchase gold and silver coins and bars. These dealers may provide different products, premiums and storage options but they all cater to RRSP approved coins and bars. All fees will come out of your Questrade account and Questrade bullion fees will not apply. The list of affiliate dealers includes:
Questrade is a full service RRSP provider. If you are interested in holding physical bullion in your RRSP, you will need an account with them. Laurentian Bank Discount Brokerage is the only other brokerage that acts as a bullion custodian and they are nowhere close to as competitive in terms of fees, premiums or selection of coins and bars. Questrade is highly rated, low-cost brokerage that offers a large selection of investments so you can consolidate and conveniently manage and track your RRSP.
See a detailed comparison on our Questrade affiliate dealers page.
Pros
One stop shop for diversified RRSP that includes physical gold and silver
Choose pooled or segregated storage for your bullion
Competitive pricing on bullion
Simplify and consolidate your RRSP investments
Cons
Customer service is variable
Questrade is a full service RRSP provider. If you are interested in holding physical bullion in your RRSP, you will need an account with them. Laurentian Bank Discount Brokerage is the only other brokerage that services investments in physical gold and silver but their service is very limited. Questrade is a highly rated, low-cost brokerage that offers a large selection of investments so that you can consolidate and conveniently manage and track your RRSP.
Recommended Company in 2018: Regal Assets
Based on all the reviews we conducted, Regal Assets Canada stands out as being the only company in Canada specializing in gold retirement accounts (Read full review of Regal Assets Canada here). The company also has high ratings from its clientbase and is now offering a free Gold RRSP/TFSA investment guide which includes, for a limited time, a free edition of Forbes magazines where Regal Assets was featured and a free DVD about the future of the dollar and economy. Get it now!

2 Comments on Questrade Review