Buying Physical Gold in an RRSP
In addition to increasing the annual RRSP contribution limit, the 2005 federal budget added certain investment-grade gold and silver coins, bars and certificates of ownership to the list of 'qualifying assets' (see p. 371 of link) eligible to be held in tax-deferred income plans, including RRSPs. Several companies provide Canadians with the services necessary to add physical gold to their retirement portfolios.
There are costs to holding physical gold in your RRSP and rules that must be followed to avoid major tax penalties. The gold must be purchased and verified by a third party custodian who reports your holdings to the Canadian Revenue Agency. It needs to be transported, securely stored and insured according to regulation. Each step has costs that add to the opportunity cost of holding a non-interest earning asset versus a low risk asset that guarantees a small return.
However, holding physical gold and even gold that is stored in a distant vault provides a level of security that other investments cannot.  To be included in your RRSP, your bullion must be stored in one of seven Investment Industry Regulatory Organization of Canada (IIROC) approved facilities. If you want to store it under your mattress, you forgo the tax benefits.
Details of the 2005 Federal Budget
To be considered eligible for your RRSP, bullion must be approved by the London Bullion Market Association (LBMA). Gold needs to be 99.5% pure and silver 99.9% pure. Both metals can only be purchased directly from the producer or through a regulated financial institution.
Bullion bars must be produced at an LBMA accredited refinery and contain a hallmark naming the refinery, purity and weight. Coins can only come from the Royal Canadian Mint through its affiliated distributors. The Mint does not sell directly to the public. The value of coins and any qualifying bullion is based only on the total quantity of precious metal, not other qualities such as the uniqueness of a limited edition coin.
The Canadian maple leaf gold coins are a popular option. They come in various weights, are guaranteed 99.99% pure and recognized and traded on international markets. The 1 ounce Canadian mint gold bar, 10 ounce PAMP and 1 kilo mint bar are also popular and well established pieces that can be purchased for your RRSP.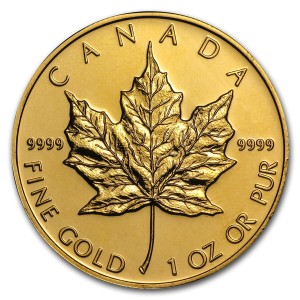 Certificates that represent claims on precious metals held and issued by federally or provincially regulated financial institutions also qualify as financial assets that can be included in your RRSP.
The Ins and Outs of Adding Bullion to Your Retirement Account
The first step is to set up and fund an RRSP account with an IIROC registered investment dealer. Not all IIROC dealers allow investors to trade bullion in their accounts. You will need to find one that has a relationship with a bullion services company and also services RRSPs.
Regal Assets is Canada's first all-in-one Gold RRSP/TFSA provider. They handle the process from start to finish and they offer the widest options for storage and some of the most competitive fees. They have also gained the praise of several prominent investors and boast the highest industry ratings. We highly recommend that you check them out at www.regalassetscanada.comhttp://www.regalassetscanada.com
Questrade was the first IIROC broker to offer the option of holding physical gold and silver coins and bullion bars in registered accounts, including RRSPs, but their bullion selection and storage options are limited compared to Regal. An account can be opened with as little as $1000 with QT.  Questrade works with Guildhall Wealth, a bullion service company that helps investors select, purchase, allocate and store precious metals – which are then included in Questrade accounts. Any physical gold that is part of your Questrade account is stored in your name at the International Depository Service of Canada (IDS) or pooled and stored at the Royal Canadian Mint (both are approved storage facilities). If you do not want to keep your gold in your RRSP, you can take possession of it and store it wherever you like.
Cache Metals is an organization that works through Laurentian Bank Discount Brokerage and Brinks Canada to help Canadians include gold in their RRSPs. The brokerage buys and sells qualified gold through Cache Metals and Brinks Canada provides high quality, IIROC approved storage and insurance.
Silver Gold Bull and Canadian Bullion Services are online platforms that sell a selection of gold coins and bars that specifically qualify to be held in RRSP accounts. They also provide services related to shipping, insuring and storing your gold.
Holding physical gold in your RRSP is neither the cheapest nor the most simple option for investing in the precious metal. Most investors choose to invest in gold-backed exchange traded funds that provide accurate exposure to the market price of gold for a small management fee. These funds offer more liquidity and can be easily traded in any equity account. However, when you choose to buy an ETF over physical gold,  you put your faith in a management team and a investment company that you might not know everything about. Managing gold-backed ETFs is not simple and if you are sceptical about others managing your assets, owning physical gold might help you sleep better at night.
Recommended Company in 2018: Regal Assets
Based on all the reviews we conducted, Regal Assets Canada stands out as being the only company in Canada specializing in gold retirement accounts (Read full review of Regal Assets Canada here). The company also has high ratings from its clientbase and is now offering a free Gold RRSP/TFSA investment guide which includes, for a limited time, a free edition of Forbes magazines where Regal Assets was featured and a free DVD about the future of the dollar and economy. Get it now!